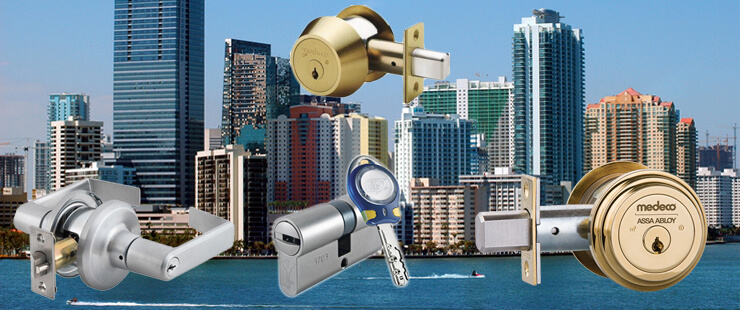 Lucky Locks Provide installation for High security locks from the best High security Locks Companies in the world as Mul-T-Lock with THE NEW CONCEPT – 3 Locking Mechanisms for More Security and Medeco For more than 40 years, Medeco® has led the security industry in innovation and quality, guarding lives and assets at facilities worldwide. Medeco® locks are made with pride in the U.S.A. The manufacturing facility is located in Salem, Virginia and employs approximately 250 people.
Medeco designed its high security product line with pick and drill resistance features that block the things thieves do to gain entry. When a thief sees Medeco locks on your interior or exterior doors, file cabinets, gates and other secure areas, he will likely decide it isn't worth the risk.
Medeco's patented key control systems make it virtually impossible for someone to get a copy of your keys without your permission. This low-cost solution protects against a potential liability for your facility.
Medeco has pioneered extremely large Master Key systems through our exclusive use of angled cuts on our keys, and slider combination. With millions of combinations, Medeco can accommodate even the largest installations. read more…
Mul-T-Lock `is a world leader in developing, manufacturing and marketing high-security products for institutional, commercial, industrial and residential applications with a complete product range consisting of multiple locking solutions such as cylinders, deadbolts, multi-point locks, padlocks and master key systems and multiple technologies including mechanical, electromechanical and access control.
1. Mul-T-Lock®'s High Security Interactive® cylinders have a special telescopic pin tumbler mechanism with internal and external pins. Both the internal and external shear lines must be aligned simultaneously in order for the plug to rotate.
2. The Interactive system combines this special telescopic pin tumbler mechanism with a spring-loaded pin in the cylinder plug to produce a 'virtual combination' that may only be achieved when the key is inserted in the lock.
HIGH SECURITY PRODUCTS:
With its truly unique design the MUL-T-LOCK Hercular deadbolt is truly spectacular. The Hercular is reinforced in just about every way possible.

Medeco® offers a Smart Deadbolt Solution of products with features ranging from key control, high security, Grade 1 & 2 offerings and eCylinders.

MUL-T-LOCK manufacturers a vast array of Mortise Cylinders. Fitted with manufacturer specific tailpieces (cams), MUL-T-LOCK's Mortise Cylinders will fit into just about any Mortise Lock in the market. Different sizes are available depending on the door thickness.

Medeco® Rim and Mortise cylinders provide patented key control and UL437 Physical Security in adaptable retrofit cylinder formats. Additionally Medeco® offers severl eCylinder solutions available in these formats as well.

MUL-T-LOCK's Adonis cylindrical locksets are designed to provide superior door protection with uncompromised key control. Each Adonis Lockset is fitted with a MUL-T-LOCK Key In Knob and available in a Knob (Ball or Plym) Design or ADA (America Disabilities Act) Compliant Lever Design. Various functions available for just about any need.

Medeco's Key-in-Knob cylinders are designed to retrofit knob type cylindrical locksets, lever type cylindrical locksets, padlocks and bored type auxiliary deadlatches and deadlocks. Medeco's KIK/KIL cylinders are available in a variety of eCylinder and Mechanical technologies

MUL-T-LOCK manufactures a wide variety of residential Mortise Locks. Available with Through-Bolted or Surface mounted trim, and in 2½" or 2¾" backset. Each Mortise Lock is fitted with a High Security MUL-T-LOCK Mortise Cylinder.

UL437 High security drill, pick and bump resistant cylinder

MUL-T-LOCK's Patented Interactive® Key Control System
Limited Lifetime Mechanical War

Medeco® Large Format Interchangeable Core cylinders are designed so that cores can quickly and easily be changed by non-technical personnel by using a special control key. The Medeco® Large Format Interchangeable Core cylinders are available in a variety of different sizes, formats and security levels. Cores are available to fit into rim and mortise cylinders, key-in-knob locks, padlocks and bored auxiliary deadlatches and deadbolts.

MUL-T-LOCK's Jimmy Proof Lock gives the user flexible surface mounted deadlock protection. Combined together with a MUL-T-LOCK Rim Cylinder this deadlock can be supplied either in Single Cylinder configuration with a Thumbturn on the inside or in Double Cylinder Configuration.

UL437 High security drill, pick and bump resistant cylinder

MUL-T-LOCK's Patented Interactive® Key Control System

Medeco's network of factory-certified key system service centers will take your key system design concept and develop an affordable product solution to meet you needs. The key system service center can provide product installation and management tools to maintaining your new key system well into the future.

To find a certified SFIC dealer in your area, please visit or dealer locator to the right of this page.

The YALE Real Living durable touchscreen lock brings smartphone chic to residential security. The sleek design features robust construction that protects the lock from abuse and resists tampering.

Medeco® offers a variety of High Security Padlocks that are designed to accept both mechanical and eCylinders.

Mul-T-Lock's Gate Latch Lock offers latch locking combined with the quality, strength and durability of our Hercular® deadbolt. Utilizing many Hercular® components and a high-quality latch, the Gate Latch Lock offers the security of a Hercular® deadbolt along with the convenience of a self-latching lock. Available with a 2¾" (grade 1) or 2⅜"(grade 2) backset, in both single cylinder and double cylinder designs and in all standard Hercular® finishes, this product is ideal for securing common area gates, protecting public and private pools, apartment complexes, condominiums and more.

The Medeco® reach extends to six continents. Medeco® locks are used to protect facilities worldwide such as high security government installations, industrial and institutional organizations, airports, hotels, power plants, palaces, museums, universities and schools, and office buildings. Medeco's international cylinders are designed to fit in locksets of major world manufacturers. In addition to international uses, many of these cylinders fit imported hardware used in North America.

MUL-T-LOCK Padlocks is designed to offer Patented High Security Key Control and Strong Physical Protection to Padlock Security. All C-Series Padlocks are made with a hardened steel body shell, and a hardened steel shackle. They are available with or without a Shackle Guard for extra protection, and are also available with a pop open shackle or completely removable shackle. Varying in different shackle diameters and clearances the C-Series Line will accommodate any padlock requirement.

High security padlock, for general use with Mul-T-Lock® hasps or shackle protectors.
Unlocking with 55˚-65˚ key rotation.

Medeco® high security cam locks are recognized throughout the world as the standard for protection in a 3/4 inch diameter lock. Medeco® Cam Locks utilize hardened, stainless steel inserts throughout the cylinder to provide the ultimate defense against drilling, pulling, and other forms of vandal attacks. Patented key control programs prevent the unauthorized duplication of keys and maintain system integrity. Keyed alike, keyed different, or master keyed, Medeco® offers a complete line of various cam lock sizes and functions to meet your specific needs.

ROSSLARE offers a versatile collection of access controlproviding a complete gamut of commercial and industrial security and control solutions.

Medeco® offers a variety of high security Cabinet Locks that are designed to accept both mechanical and eCylinders.

A high security disk lock that secures the brake disk to block wheel rotation, providing excellent anti-theft protection for scooters.

Hardened steel locking bolt (removable)

The Medeco® 3/4 inch diameter, high security Switch Lock offer a wide range of electrical functions with the physical security and patented key control of a Medeco® cylinder.

Medeco® offers a variety of Vending Equipment locks designed for route management. These products are availalbe in both mechanical and eCylinder technologies.

Medeco® offers a variety of parking meter cylinders designed for physical security and route management. These products are available in both mechanical and eCylinder technologies.